| | |
| --- | --- |
| Posted on February 4, 2014 at 10:45 AM | |
Braids are a great way to mix up your hairstyle. They offer a look that is easy to do and can be achieved in minutes.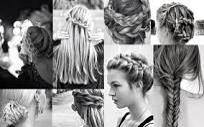 Pro Tip: The trick to good braiding is to keep the tension on the strands evenly.
For those new to braiding, the biggest question is, how do you hold three strands with only two hands?
What you do is hold two of the strands in one hand and one strand in the other. As you braid, the extra strand is passed between the hands. It takes time to get good at it so don't get discouraged if your braids don't turn out perfect the first few tries. Enjoy!