| | |
| --- | --- |
| Posted on June 19, 2014 at 8:50 AM | |
How can trimming the bottom of your hair possibly effect growth from the root in any way?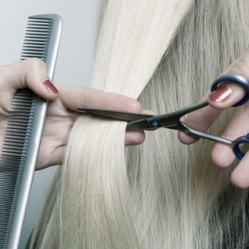 Well here it is:  Think of a split end as a run in a stocking, once that run starts, it's going to continue all the way up the stocking—and that's the same thing that happens to your hair. The split travels all the way up the strand, causing it to become weak and break off.
So it's not that getting a trim helps your hair to grow faster — it's that it prevents breakage from occurring at the ends of your strands, allowing you to more quickly reach your desired hair length! As an added bonus, trimming your hair keeps the ends from looking stringy and uneven, helping your locks to appear fuller.
Categories: How To